"There's nothing like being there" or so goes the saying. SECURE Remote Access may well be an exception to the rule.
Access to the corporate network has traditionally been achieved by dialing into the office and taking control of a PC using an off-the-shelf remote-control application. This method typically offers minimal security and requires that the host PC is not only turned on but is properly configured to receive inbound calls. Problems such as an application freeze-up can easily render the host PC inaccessible.
SECURE literally makes whatever computer you're using an actual peer on your company network. This means you have transparent access to any and all of the network resources (e.g., servers, printers, etc.), that you would from your office PC. And unlike many remote-control applications, this is accomplished with the highest level of security so you know your information is safe from prying eyes. In addition, there's never a need to worry that the "remote access PC" is turned on and ready to receive calls.
Ubiquitous Access
With the boom in high-speed Internet access availability, ranging from wireless hotspots like Starbucks, Borders, and many airports, to most (if not all) of your clients' offices, to the increasing number of hotels that offer wired or wireless Internet access, you can securely connect to your company network just about anytime, anywhere. Even with common dial-up access from ISPs such as AOL, Earthlink, and the like if necessary.
What Does SECURE Look Like?
While we carefully customize SECURE for your specific requirements. This is a diagram of a typical implementation: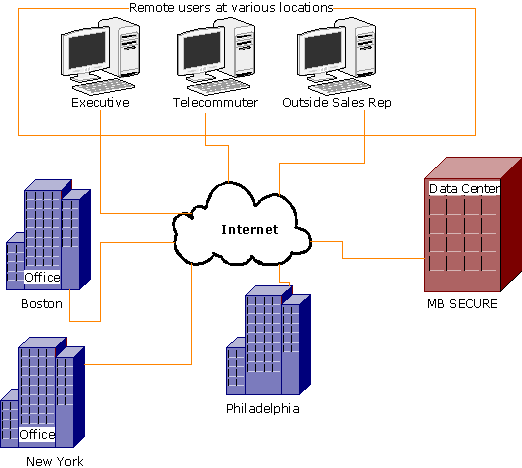 Using a public network like the Internet for secure, private data communications is what's known as a VPN (Virtual Private Network). The alternative, which is usually far more expensive, is known as a Point-to-Point network, which requires dedicated data lines that are leased from the likes of AT&T, Verizon, MCI, etc.